Based on years of experience in the production of marine rubber airbags, our company has successfully developed a new generation of high-pressure pipeline blocking inflatable pipe plugs. The inflatable pipe plugs are widely applicable to all kinds of pipeline closed water tests, municipal pipeline maintenance, plugging, dredging, dredging, water blocking, leaking, drainage pipeline maintenance, sewage industry treatment, fire emergency repair, and plugging construction, etc. The new type of blocking inflatable pipe stopper has the advantages of soft and tough texture, strong pressure resistance, good air tightness, anti-cracking, abrasion resistance, explosion-proof, convenient and quick operation, fast blocking speed, and can be used repeatedly.
Our professional-grade blocking inflatable pipe stoppers are special designed for municipal, commercial, high-pressure, or large diameter pipes. The inflatable pipe plugs are ideal for large pipes where access is limited. When deflated, they can be folded up and inserted through a standard manhole, then inflated. Industry-leading plugs are tough yet flexible and lightweight. Their easy handling makes these plugs the first choice among installers.
Municipal series blocking pipe stoppers are the industry leader in employing advanced rubber compounds and high tensile fiber, with advanced integral winding production technology. Our pipe stopper is more flexible and lightweight, higher safety factor, stronger wear-resisting and anti-aging, and better sealing effect than the competition.
We do the airtightness and pressure test for all pipe plugs at a higher pressure than their working pressure to ensure durability and safety. We supply all necessary accessories together with the inflatable pipe plugs. The workers can use it directly after getting the plugs.
We are proud to provide the highest quality plugs, together with expert service and timely customer support. Ask us about any of our plugs for commercial or municipal usage including inflatable test plugs and pneumatic pipe plugs. Let's help you successfully complete your project – on budget and on time.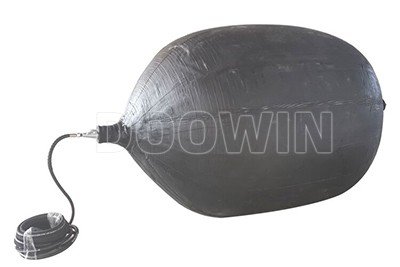 Inflatable Pipe Plugs Constructions
The high-pressure pipeline blocking inflatable pipe plugs includes an airbag body with two cone ends. Both ends are provided with a traction pull ring for connecting a fixed traction rope. And either end is provided with an inflation port for connecting an inflation air hose.
Inflatable Pipe Plugs Features
Doowin Marine uses the most durable materials and rigorous tests to ensure the safety and longevity of their plugs. Our inflatable pipe plugs have the following features and benefits:
Inflatable Pipe Plugs Specification
We provide a broad size range from DN300mm to DN3500mm in diameter for heavy-duty projects all over the world. The plugs can withstand high working pressure. The working pressure of enhanced type pipe stopper is 0.1 ~ 0.18Mpa. The high-pressure working pressure can reach 0.3Mpa. Thereby, the safety of construction can be better guaranteed. Other specifications and other operating pressures can be customized according to customer needs.
Stoppers

Diameter DN (mm)

Length

(mm)

5M Water Depth

Low Working Pressure

(MPA)

8M Water Depth

Standard

Working Pressure

(MPA)

10M Water Depth

Ultr-High

Working Pressure

(MPA)

300

800

0.15

0.20

0.25

400

1000

0.15

0.20

0.25

500

1100

0.15

0.20

0.25

600

1400

0.15

0.20

0.25

800

1600

0.12

0.17

0.20

1000

1900

0.12

0.17

0.20

1200

2400

0.12

0.17

0.20

1350

2400

0.10

0.15

0.17

1400

2500

0.10

0.15

0.17

1500

2800

0.10

0.15

0.17

1600

2800

0.10

0.15

0.17

1650

3000

0.10

0.15

0.17

1800

3200

0.10

0.15

0.17

2000

3600

0.10

0.15

0.17

2200

3700

0.10

0.15

0.17

2500

4200

0.10

0.15

0.17
Note: The above performance is for your refer. We also make customized size. The length is different for different working pressure. Please confirm the exact length with us when order.
Commercial Series Inflatable Pipe Plugs
High pressure plugs, sewer plugs, culvert plugs, inflatable bladders. One size can be used for multi-size pipe diameter
Commercial series inflatable pipe plugs can be build up with high-quality natural rubber, NBR, neoprene rubber, or other material. Nylon layers were used to reinforce it. This ensures our inflatable pipe stoppers are resistant to fuel, petro-chemicals, and other caustic chemicals. Each inflatable pipe plug is equipped with rigging hardware, inflation ports, and pressure relief valve.
And, inflatable pipe plugs are multi-size flow stoppers. Each flow stopper can be used to close off a range of pipe-diameter. The inflatable pipe plugs are easy to install and as even more important easy and quick removed because of its lightweight.
Commercial series pipe stoppers are lightweight plugs designed for commercial and light industrial work. Their small deflated size makes insertion and operations fast, easy, and safe. Filling the plugs with air or inert gas lets them expand to completely block pipes for maintenance, construction, or other projects. Use these economical and lightweight inflatable pipe plugs for buildings and factories or wherever a shorter pipe plug is required. All commercial plugs all use standard valves for easy inflation and deflating. 
Plugs Size

DxL (mm)

Working Pressure

(MPA)

Pipe Size

kNm

Air Pressure

(MPA)

DN150-200

0.15~0.2

DN100-200

0.15~0.2

DN200-400

0.15~0.2

DN200-300

0.15~0.2

DN200-500

0.15~0.2

DN300-400

0.15~0.2

DN300-600

0.15~0.2

DN300-600

0.15~0.2

DN400-800

0.15

DN500-800

0.15

DN500-1000

0.15

DN800-1200

0.15
Welcome you contact us to get more information. We will provide more information about plug's installation, performance, accessories, selection, use and storage.  
High-Pressure Inflatable Pipe Plugs Stoppers - Let's win together!