Marine rubber airbags, known as ship launching airbags or ship launching balloons, are made of heavy-duty synthetic-tire-cord layers with inner and out rubber layers in a long cylindrical balloon shape. Marine rubber airbags can be used for ship launching and landing, heavy lifting, and marine salvage.​
Marine ruber technology is accepted by more shipyards worldwide because of its advantages of saving time, saving investment, flexibility, safety. We are constantly innovating in terms of design, material usage, & manufacturing technologies throughout the years to ensure flexibility, safety, and reliability.
Doowin Marine marine rubber airbags are the No.1 choice by companies in Southeast Asia, Europe, Turkey, Middle-East, North America, Africa, South America. We pride ourselves on providing the highest quality marine rubber airbags, together with expert service and enhanced customer support. Ask us about any of our marine rubber airbags for ship launching, marine salvage, heavy lifting.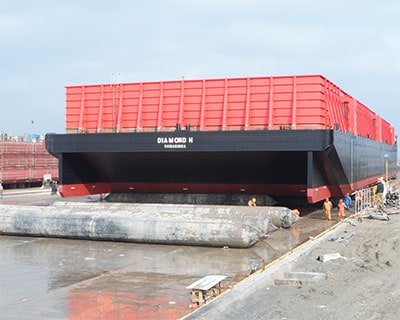 Multi-purpose Marine Rubber Airbags
Why our Marine Rubber Airbags
From the raw materials to the highly skilled production process, our engineering team constantly improves.
Our rubber roller are manufactured and tested to comply with ISO 14409, certificated by CCS, LR, DNV.
Marine Rubber Airbags Engineering
Marine Rubber Airbags Excellent in Practise
More information Marine Rubber Airbag?
Welcome you contact us to get more information. We will provide you more information about marine rubber airbags' technical information, project support and design, etc.