General surface support buoys are constructed by resilient closed cell polyethylene /EVA foam around the inner central steelwork, covered by polyurethane (PU) outer kin. General surface support buoys are extensively used in single-point mooring (SPM) systems as chain support buoys or floats.
The resilient closed cell polyethylene/EVA foam core guarantees self-fendering and is unsinkable even in case of damage.
General surface support buoys have a flotation core manufactured from resilient closed cell polyethylene or EVA foam around internal steelwork. The closed foam ensures the buoy will not absorb water even if the skin is punctured, increasing the lifespan of the product and reducing maintenance costs. The resilient foam core makes the buoys self-fendering with a high impact absorption capacity.
The foam core is encapsulated within a skin of tough, abrasion-resistant polyurethane elastomer applied by our well-proven spray technique. The polyurethane elastomer skin is high resistance to abrasion, fatigue, and ultra-violet degradation together with excellent resilience. It does not attract marine growth. For extreme operating conditions, the PU skin can be reinforced with polyester material during the spray process as reinforcement to add further strength.
The self-colored skin can be supplied in orange, yellow, red, black, and naval grey for ease of identification.
General Surface Chain Support Buoys Features
■ Un-skinnable closed-cell rigid foam core
■ PU Protective outer skin
■ Self-fendering with the high impact absorption capacity
■ PU Various end fitting options are available
■ Polyester reinforced skin with better performance
■ Internal steel core for better support and balance
■ Various colors to choose
■ Customized size and shape available
General Surface Buoys Specification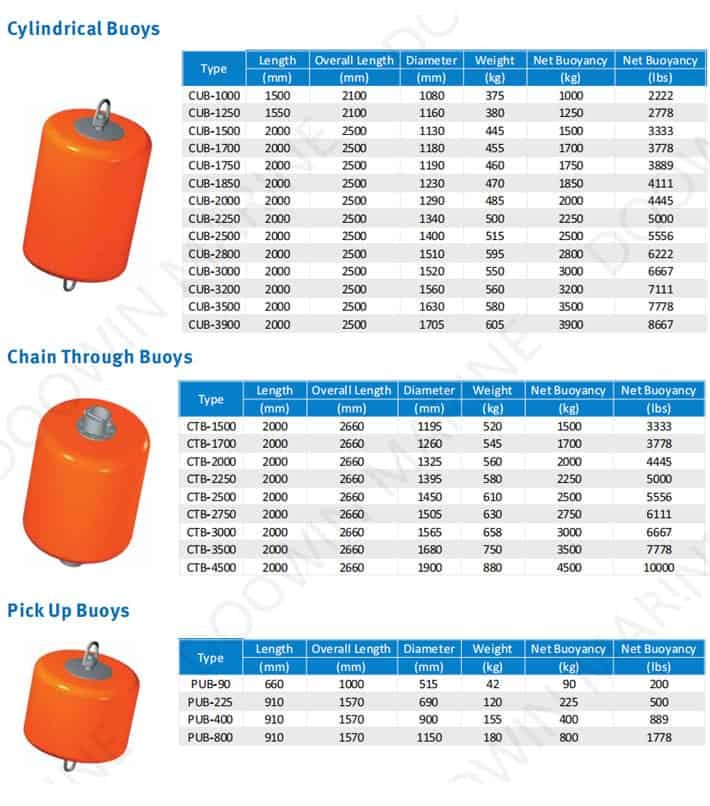 General Surface Buoys Type
■ Cylindrical Buoys
■ Chain-through buoys
■ Pick-up Buoys
Download: General Surface Support Buoys